PLAYER INFO
Princess_moon
Emei Sword
Member: October 2009
Level: 88 (March 2011)
Sever: Moha Nokor
PREFACE
Spirit stone is available in several versions before our 2.16, and a dozen of topics are discussed over this matter as well, but only it's not in set. Thus I decided to write one which will be discussed in many parts combined together such as: spirit stone, spirit receipt, fusing, bakua set, bakua activation…
This guide is for those who are early interested in spirit stone and not clear about its system and information, then use as a reference. This guide is for those who are already understanding about spirit stone and want to add your idea to improve and correct.
This guide based on my own experience and a few resources on the internet. It is surely not a complete guide, but I'll try to give you as much as I can remember and I'm sure it can help you to complete some jobs related to spirit stone and bakua set in your JX2 adventure. All pictures are recorded by myself except some will be specified. Some materials might be abstracted since I don't have enough items to take as example.
Good luck.
PS: For a copy of this guide, please post here or contact when I'm online JX2.
GETTING TO KNOW
SPIRIT STONE
Spirit stone in JX2 is divided into two types: Lunar and Solar, take a look in the picture below:
Red box: Type of stone, Lunar or Solar. Lunar stone will have nimbus in Even value: 2,4,6,8,10,12,14… While Solar stone will have nimbus in Odd value: 1,3,5,7,9,11,13…
Green box: Level of stone. Usually low level stone has low attribute as well. As in this picture, Solar stone is level 5 that has attribute "Skill casting speed increased by 14%" while level 4 might has attribute "Skill casting speed increased by 10%" and vice versa. However, the attribute value of stone with same level might be different.
Yellow box: It tells the stone position which will be enchased on. There are 4 positions: Hat, Armor, Pant and weapon. If you want to put a stone on your weapon, then you will need to find one that says "Enchase on Weapon" accordingly.
White box: Two types of nimbus value, Odd and Even determine the type of stone. In this picture Solar stone has nimbus 41 (Odd), while Lunar has nimbus 36 (Even). These values are important when you want to fuse a bakua set because the total value of 3 stones enchased on your equipment must be equal with the nimbus value of your equipment.
Purple box: Stone attribute according to stone level. High level stone usually has high effect of attribute.
SPIRIT RECEIPT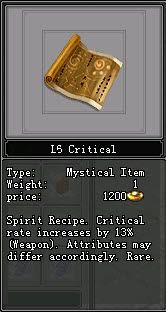 Spirit receipt is like a cook book. Once you find enough ingredients as told in the receipt, you can start cooking and at last you have your food. Same thing, let's take an example of L5 All Plus Armor.
Yellow box: All properties increases by 12 (Armor). Meaning after fusing you will get a stone with attribute "All properties increases by 12 and Enchase on Armor". To see the requirement of how to get this stone right click the receipt, you will see below picture, then follow the instruction. More details in the fuse spirit stone section.

SOULGATHER CALDRON/BAKUA TOME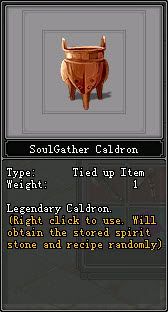 SoulGather Caldron is a storage for storing your spirit stone, spirit receipt and some other related menu. You can also take out spirit stone, spirit receipt, redeem appointed spirit stone, receipt with any attribute, and moonlight.
Bakua Tome is book that contains many useful information such as, bakua position and bakua set…If you don't have it, just go and meet GongZi Ju in Dali, GongZi Bing in Xiang Yang, or GongZi Qi in YangZhou.
NPC RELATED


Dali 186/190, XiangYang 175/187, YangZhou 206/196
This guy GongZi Ju has two more brothers, GongZi Bing and GongZi Qi. They are responsible for Bakua set activation, detaching and stone extraction. You can meet any of them.


BianJing 143/178, ChengDu 246/221, QuanZhou 172/178
This Priest is responsible for activation each of your Bakua equipment.


XiangYang 176/182
This small guy can do different job such as, adjusting nimbus of your bakua equipment, upgrading, extracting stones from nimbus equip.
HOW TO FUSE STONE/USING SPIRIT RECEIPT
Method 1: Using mix stones
You can fuse a stone by putting a few stones with random level and attribute together to stand a chance getting one new good stone.
1. Go to any of GongZi family and select "I want to fuse Spirit Stone"

2. Put some spirit stone into the box then click on Fusion. Your hero must have enough gold to fuse.
Method 2: Using Spirit Receipt
This method will give you good result as long as you fulfill the requirement of spirit receipt. Look in below example:
I have a receipt: L5 All Plus Armor
1. Right click spirit receipt we'll see:

2. Find ingredients: Take a look at Request material especially the yellow letter. To get a stone which will be enchased on Armor with attribute "All properties increased by 9-12" you will need to have stone level 4, 4 units with same attribute (all properties increased by from 5 to 8 enchased on any position).
3. Put the 4 stone together, then click Fusion. Your hero must have enough gold to fuse stone.
Note: This method should be used only in special circumstance or for usage since it's hard to find stone with same level and same attribute and JX put a better spirit stone in seal weapon and we can extract it easily.