Hi!
JX2 Command Center 1.0 Full is out now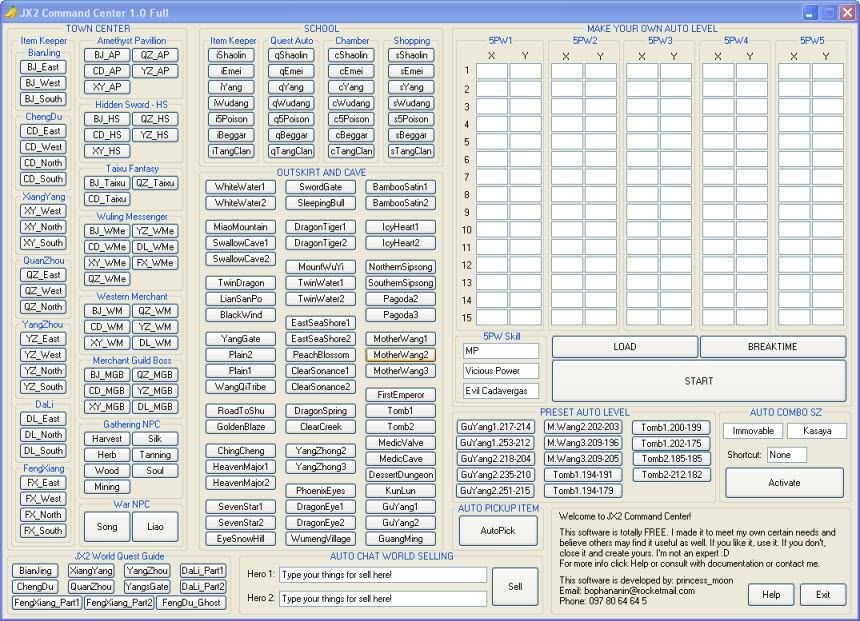 LEAVE YOUR EMAIL ADDRESS HERE, I'LL SEND DOWNLOAD LINK TO PER 10 or 20 EMAILS!
Features:
. One click bring you to specific NPC
. One click bring you to Outskirt & Cave
. One click do school quest
. JX2 guide to solve quest
. One click AutoPick item dropped forever
. Automatic Sell your things
. Auto Combo SZ now come out in real life: recode with Ultra fast speed than any other version.
. Preset Auto Level
. Make Your Own Auto Level
Requirements:
. Big screen 1280 x 960 minimum to show this software
. Test and run great on Intel Core
. Good network

. Windows 7 users, run as Administrator if you have problem.
. Window Title Changer (in the zip package) to work with Auto Chat World Selling, and Make Your Own Auto Level features.
Use:
I. TOWN CENTER, OUTSKIRT AND CAVE, SCHOOL CATEGORY:
. Clicking any of these buttons will bring you instantly to respective place and NPC.
Note Quest Auto section: I assumed you have school charm to use this feature, without school charm you run into error
II. AUTO CHAT WORLD SELLING:
* Don't get confused with this. It's not hacking packet data to allow you to chat world any second you want!
. Change your game window to " hero4sell1 " and " hero4sell2 " (if you open two hero)
. Type your message in the two box (each for one hero)
. Click Sell
Note: Message will send out every 5minutes.
III. AUTO PICKUP ITEM:
. Hope you find this useful
gathering rubbish is now no more tired. Free your finger from the Space key.
IV. AUTO COMBO SZ:
. Has been recoded. If you notice that this is faster then the previous give me a
V. PRESET AUTO LEVEL:
Example: Button GuYang1.217-214 is where you have to move all your hero to GuYang Cave 1 with Coordinate 217/214.
. Start doing error
. For GuYang Cave 1 217/214 need 4 hero 5PW for gathering monsters. (Click help to know more)
. With Window Title Changer, change your game windows of the 4 5PW hero to 5WP1, 5PW2, 5PW3, 5PW4 (Type as what I type here)
. Put MP on fast key box #2 (leave blank if you wear equipment recover MP), Vicious Power box #3, Evil Cadavergas box #4
. Click the button to start
Note: Some places I haven't tested out yet. Do it at your own risk
VI. MAKE YOUR OWN AUTO LEVEL:
THE PROCESS:
Your hero will walk in this manner:
5PW1 > 5PW2 > 5PW3 > 5PW4 > 5PW5 > 5PW1 (row2) > 5PW2 (row2) > 5PW3 (row2) > 5PW4 (row2) > 5PW5 (row2).......until......5PW1 (row15) > 5PW2 (row15) > 5PW3 (row15) > 5PW4 (row15) > 5PW5 (row15)....and again and again...
STEP 1
* Coordinate.ini file is important for saving your coordinate of any place in JX2 map. You can save it to many files you want for later use or to share with friends. However when you want to Load this coordinate to the screen, you need to rename your file to Coordinate.ini and it must have the same format as mine. Let's see how you will edit coordinate file below to make waypoint for your hero:
[5PW1]
x1=
y1=
x6=
y6=
...
...
...
x71
y71
. This part refer to your hero 5PW1. The x1/y1 represent coordinate = In JX2 e.g 100/200. So you will have to write it like this:
[5PW1]
x1=100
y1=200
...
...
...
Thus you need to complete all coordinate until you done with 5PW5.
If you don't want to do with coordinate file, you can enter coordinate manually in each block. However, I don't recommend this way. It can make you cry
STEP 2
Click on Load button.
STEP 3
Click on BreakTime to set time between each track of your hero. Good timing result you good process.
STEP 4
3 Boxes of 5PW Skill are for you to input shortcut key. Example: If you put MP on box #1 (fast key) then type 1 in the MP box. If you put skill Vicious Power on box #2 then type 2 in the Vicious Power box..
STEP 5
Click Start
Now see your hero walk and play
The explanation is not fully enough, but I'm tired now

You see it took me about 40 hours to write total around 7000 lines code to build this up.
Give me a rest
Good luck!